When moving to the U.S. for work, professionals from other countries often struggle to find financial products that they qualify for, especially when it comes to credit cards.
That's because regardless of the income they'll earn here or the financial health of the company they're joining, they'll still lack a U.S. credit history and likely also a Social Security number — both of which are typically required by many traditional U.S. card issuers.
CreditStacks has created a credit card that the company hopes will help solve this problem. The credit card doesn't rely on traditional credit factors to vet applicants. It doesn't earn rewards, but it saves cardholders money on fees while helping them build a credit history in the U.S.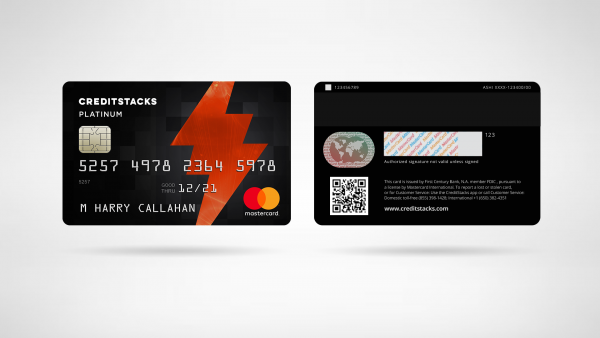 The basics of CreditStacks
CreditStacks started shipping credit cards to qualified customers in January 2018. The card is designed specifically for working professionals who are new to the U.S., which CEO Elnor Rozenrot says is a market that needs assistance.
CreditStacks doesn't rely on traditional factors like credit history or Social Security numbers to vet applicants.
"When I came to the U.S., I couldn't get a credit card, and it just drove me nuts," said Rozenrot, who is from Israel. "I walked into a bank on my second day in the U.S., and they opened a bank account for me, but wouldn't give me a credit card. Six months later, I got a card that only had a $300 credit line. I knew I wasn't the only one, so I joined up with two other immigrants that had the same issue, and with a veteran U.S. banker, and we decided to figure out how to solve this problem once and for all."
Here's a look at the card's baseline benefits:
No annual fee
No security deposit
A credit limit of up to $5,000
An APR of 16.74% variable (as of March 2018)
No penalty APR
No foreign transaction fee
Reporting to all three major U.S. credit bureaus: TransUnion, Equifax and Experian
Travel benefits, including a collision damage waiver for rental cars, insurance for lost or damaged luggage, travel accident insurance and trip cancellation/interruption reimbursement
Safety benefits and other perks, including MasterCard ID Theft Protection, extended warranty and price protection
What makes CreditStacks different
CreditStacks offers some features that can be difficult to find elsewhere, including:
No Social Security number needed to apply. Although applicants will have to report their Social Security number to CreditStacks once they receive one, that information isn't required upfront. Instead, applicants will need to provide their passport, visa information and proof of income in the U.S. Potential customers can sign up to be on CreditStacks' waitlist through the company's website. Applicants will eventually have to get a Social Security number and report it to CreditStacks, but it isn't required during the application process.
No credit score required. Applicants who lack a U.S. credit history can still receive a credit card as long as they qualify in other ways. When vetting an applicant, the company looks at over 200 data points to determine the creditworthiness of the applicant, including debt-to-income ratio, whether they've been brought to the U.S. by an established company and whether there are any red flags in their online presence. Rozenrot declined to provide examples of what CreditStacks would consider an online red flag, but he noted that applicants who lack an online presence entirely might give the issuer pause.
Fewer fees. CreditStacks doesn't charge an annual fee, so you won't pay to hold the card. Cardholders also avoid foreign transaction fees, meaning there aren't extra charges to use the card internationally. There's also no penalty APR, so the issuer won't raise the interest rate if you pay late or miss a payment. And unlike secured credit cards, which require upfront collateral, you won't owe a security deposit.
Relatively high credit limit. Applicants may be eligible for up to $5,000 in credit. This is fairly high for someone new to credit in the U.S., although it's possible to find even higher limits in this category. Secured credit cards, by comparison, tend to offer credit limits of only a few hundred dollars. To determine creditworthiness, CreditStacks looks at factors such as debt-to-income ratio and whether the applicant has been brought to the U.S. by an established company.
Advance approval. The CreditStacks application process allows applicants to be approved up to 60 days before they move to the U.S. With other major credit card issuers, you may have to wait until you arrive in the U.S. before applying.
Cell phone insurance. CreditStacks provides up to $600 in cell phone protection for cardholders who pay their monthly bill with the eligible CreditStacks card. This is a somewhat rare benefit for personal credit cards, and one that can be particularly helpful since CreditStacks' cardholder account management system is mobile-only.
Rozenrot says that a key component of CreditStacks' mission is to provide guardrails that help customers manage their credit responsibly. For example, the company also plans to roll out an autopay feature that it hopes will help customers make their payments on time and not accumulate debt, so they can keep their credit utilization at the recommended 30% or less of their total credit limit.
Potential drawbacks
For newcomers to the U.S., CreditStacks can lower some of the barriers to entry for credit cards, while also keeping fees low as credit history is established. But it's worth noting some of the card's possible downsides:
Approval process. CreditStacks has a waitlist of 8,000 people hoping to apply as of this writing. The timeline for approval is currently within two business days from a customer's application, although Rozenrot said the company is working on improving that speed. Contrast that with an application for a secured card from a major issuer, which generally has no waitlist and will typically approve or deny an application within minutes.
No rewards. You won't earn any rewards with the card. If this is important to you, look for secured and unsecured cards that offer rewards that you can qualify for.
Mobile-only account access. There's a CreditStacks app, but you won't be able to access your online account on a desktop computer. Rozenrot says the company wanted to be able to communicate with customers on a regular basis via push notifications and email to teach people how to work with the U.S. credit system.
That's part of what Rozenrot says is the company's overall goal — to ease the path for working professionals who are making the transition to a different country.
"The key part to remember is where we come from," Rozenrot said. "It paints our approach to our customers. We wanted to make the card and experience that we wish we could have gotten."